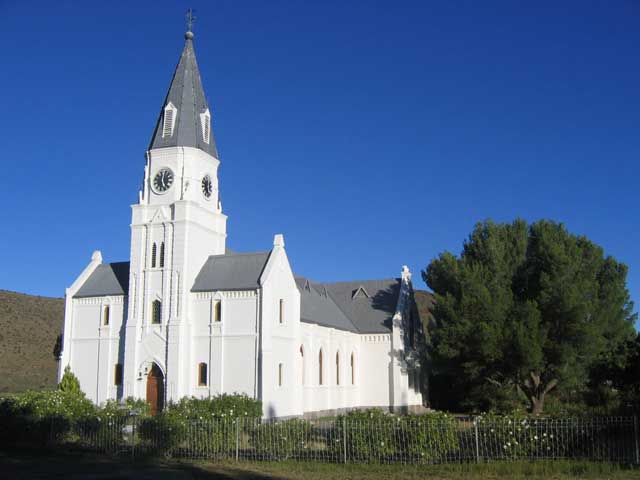 In 1875, a commission appointed by the Graaff-Reinet Dutch Reformed Church, purchased portion of the farm, Uitkyk, from A.S. & J.P. Pienaar for ₤4000. Plots were sold off to interested parties and the Dutch Reformed congregation was established in 1878. The first minister, Ds. H.F. Schoon, was appointed in 1882. Services were initially held in the house of Mr B.J. Pienaar. Later his old wagon house was converted into a church and then into the church hall, eventually falling into disuse. Recently renovated, this building is available for weddings, conferences, workshops, exhibitions, etc.
A municipality was established in 1880 and given administrative rights while the church obtained ownership rights. This meant that the inhabitants were heavily burdened, having to pay rates to both the church and the municipality. The church, not wishing to prosecute members of the congregation, apparently had to write off considerable arrear rates. Only in 1951, was the property rights of the erven sold and transferred to the municipality.
During the term of office of Ds. A.A. Weich (1890-1908), a new church was built. The corner stone was laid by Mrs Weich and the edifice consecrated on 11 Feb 1905. Stones for building the church, some almost 2,5m long, were obtained from the town commonage. The problem of transporting the long beams by ox wagon was solved by the well-known blacksmith and transport rider, Freddie Lehman, by placing bales of straw on the wagon so that the beams protruded over the hind oxen.
The church cost ₤5600 to build and, at the date of consecration, R7330 was still owing. To raise funds, the Church Council decided to subdivide 46 morgen of its irrigable ground into erven of around 1.5 morgen each and to sell these by public auction. Only on 1 July 1929, was the debt finally settled.
There is some fine wooden carving on the old church pews and the original chandeliers are quite unique. The antiquated carbide gas generator for the gas lighting is no longer operational, but once a year, early in Dec, an evening Christmas service is held with conventional gas used to light the lamps.
There had not been a permanent minister since 1961, but on most Sunday mornings a service is held by a minister from Graaff-Reinet.
The church can be viewed by arrangement.