This is an extract from an article that appeared in Spotlight magazine
The evolution of Helen's dorp
A long-time fan of Nieu-Bethesda, Stef Porter stopped by to check out what's new – and not!
Not that much has changed in Nieu-Bethesda since a group of local farmers got together in 1875 and petitioned to set up a church closer than the one in Graaff-Reinet (then a sevenhour ride away). If you ask residents why their town remains undeveloped, they'll most probably tell you it's because of critical mass; there just aren't the numbers to support even small changes, much less major infrastructural ones. This, despite the fact that Helen Martins' Owl House makes it one of the most visited dorps in the country. Ask those same residents if the lack of progress is a good or bad thing and you'll have an evening-long debate on your hands.
But for all that, there has been some progress, although compromise is probably a better word for it. The two perennial issues of the town – whether or not to tar the main road and/or install street lights – have both been addressed in a typically Bethesda way: the adjoining township got street lights recently, but the village stayed 'star friendly'; and the dirt road stays dirt but major roadworks have made it much smoother.
What's new in town
The much-loved Waenhuis bar at the four-way stop on the main street has reopened and is a good spot for light meals and chitchat with locals. And there's even a telly now, just in case you're feeling a bit cut off from the outside world.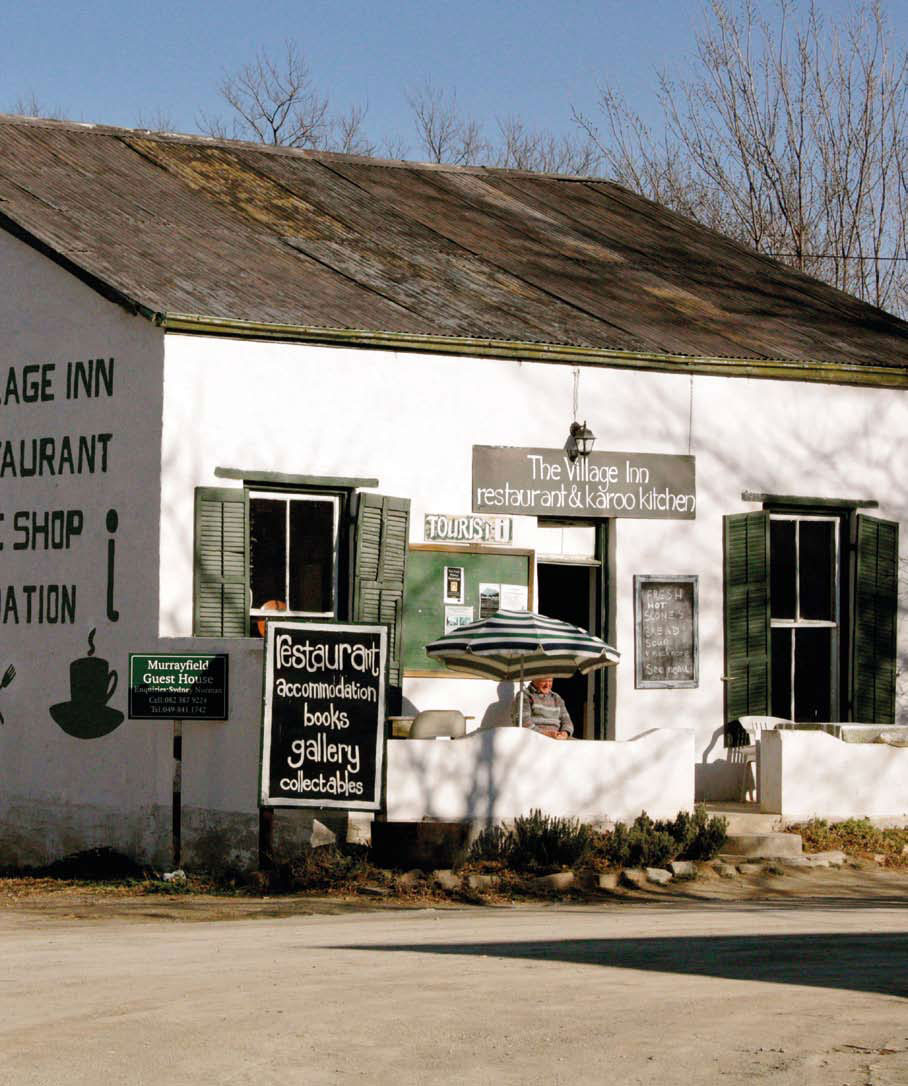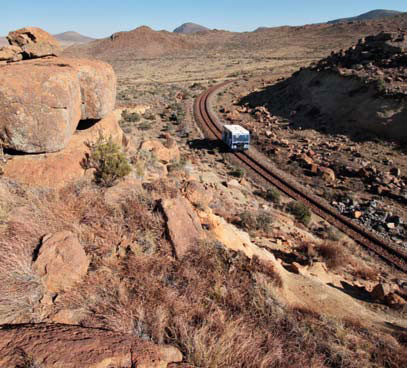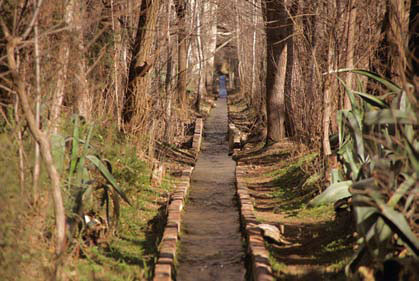 The popular Outsiders restaurant, previously on the main road, is now in a beautiful old building diagonally opposite the Owl House. Owners Ian and Katrin Allemann also run a selection of accommodation in town, from a backpackers in town, from a backpackers to the old converted water tower with its funky round bedroom. The well-travelled pair's easygoing hospitality will make you feel at home right away.
There's still no petrol station in town, and Mark Wilby's Ibis Gallery, which for a while promised national renown, sits empty and un-loved with its trademark dart still sticking in the outside wall. And everyone still misses Egbert, Nieu-Bethesda's idiosyncratic, book-loving, irascible unofficial mayor, who died suddenly a few years ago. His presence remains though – he was as much a part of the fabric of the town as Helen Martins.
Thirty-three years after killing herself, Martins' quirky Owl House continues to attract thousands of visitors a year, who come to marvel at her
concrete owls and quasi-religious themes and fascinating nativity scenes. There's more ebb and flow if you look around. As Egbert's books and coffee and Christine Dixie's arresting art faded into memory, so Andrè Cilliers' goat's cheese and home-brewed beer down at The Brewery took over. His business continues to thrive and you're likely to see him on his old motorbike going across the riverbed road to get
something from the small general dealer or at the post office. If he's wearing a helmet it means the local constable is on the lookout.
The post office is very quaint, unlike anything you'll see outside of, say, Matjiesfontein. It houses a coffee shop and gift shop called Nina's which,
quite logically for Nieu-Bethesda, is run by Heidi Bukoi. The original old toonbank is there and very beautiful it is too.
Down the road in New Street the hairdresser, Michelle Cilliers, is still doing a good trade in highlights and town chatter. She initially opened
full time in the dorp, but now divides her time between a salon in Graaff-Reinet and her premises next to the Art Gallery.
Things to do
Fossil Beds, AfriCAn CAts, And A trAin CAlled tuBBy There's plenty to do in and around Nieu-Bethesda. Few visitors realise that before Helen Martins, the dorp's claim to fame was as an important centre for fossil beds. Today there is a fossil centre alongside the Owl House, from where you can take a guided walk down through the dry riverbed dividing the town. There is also a museum of sorts, explaining the excavations and seabed theory (most of the Karoo was once under a vast body of water) and for anyone seriously interested where in major finds, a trip to the nearby farm and fossil museum at Ganora, eight kilometres away on the Middelburg road, is essential.
While you're out that way, keep going on the Middelburg road until shortly before the tarred N9. At the Blaauwater signpost turn left and head to Charles Kingwill's farm of the same name. The family has been in the area for generations and his land extends up the majestic
Lootsberg Pass. So too does the now defunct railway line to Middelburg. Charles has bought himself a small caboose that he uses to take the odd visitor up the pass. Sitting in the open-doored cabin, watching the enormous grandeur of the Karoo escarpment rise and the endless plains below unfold, is a truly unforgettable experience. At the summit, his little caboose (named Tubby) lifts itself up hydraulically, turns around, and heads back down the pass. It's nifty and lots of fun. Charles even packs coffee and rusks for a pit stop on the way down at the loneliest bench in the world&
The rest of a day out is best spent visiting Pred-A-Tours, a rehabilitation sanctuary for small African cats some 75 km from Nieu-Bethesda near Fish River, on the way to Cradock. Here Richard and Marion Holmes have set up a number of cages to house small cats handed to them by farmers. You can get up close to see the threatened black-footed cat as well as the African wild cat, serval and caracal. Between the cages Marion has guinea pig runs, which she refers to as 'TV for the cats' – to keep them from getting bored.
Not that much changes in Nieu-Bethesda, but it's what stays the same that keeps bringing you back.
Nieu-Bethesda top picks
The New Year's Festival of Light – pick up a lantern and join the throngs as they walk the village. A magical start to the new year.
Walk out of town at night – few street lights mean the Karoo sky is yours for the gaping.
Bike or drive around the Compassberg – the highest peak in the Sneeuberg range.
Take a train up the Lootsberg Pass – Charles Kingwill's Tubby caboose is the little train that can. 082 573 0827
Go for a walk down the Gats River gorge through the reeds to a number of hidden pools. It's unlikely that you will meet anybody else down there – few visitors know of this secret spot and you'll have it to yourself. But do ask for more detailed directions before you set out, to find the best pool.
Visit the Bethesda Arts Centre in Miller Street for a selection of local crafts and original art. It's a working studio as well, so talking to the artists is always a possibility. 049 841 1731
Visit Pred-A-Tour – Marion and Richard Holmes' small-cat sanctuary is a haven for threatened felines. 048 881 2814, www.karoocats.org